Hemp Fiber Offers Renewable Alternative to Petroleum
It's hard to look around and not see the impact of plastic on our lives. In our cabinets at home, in our refrigerator, in our vehicles, at our offices or workplaces – it's inescapable. However, with the booming interest in industrial hemp, is there a viable alternative on the horizon? We say yes.
Another thing that's difficult to escape is the consistent theme in the news media and scientific circles around decreasing our dependence on fossil fuels. Whether it's to lower your impact on climate change or simply switch to a more renewable lifestyle, pushing for hemp-based plastics could be your ticket to a greener future.
Currently, there are seven types of commonly used plastics. A little known fact, however, is that most municipal recycling centers only accept and process one or two of those seven varieties. The others? Well, they end up in a landfill.
A simple way to understand your own plastic is to look for the little recycle symbol on your containers and locate the number inside or near the symbol. From there, you can cross-reference the list below and look up which types of plastic your local recycling center processes.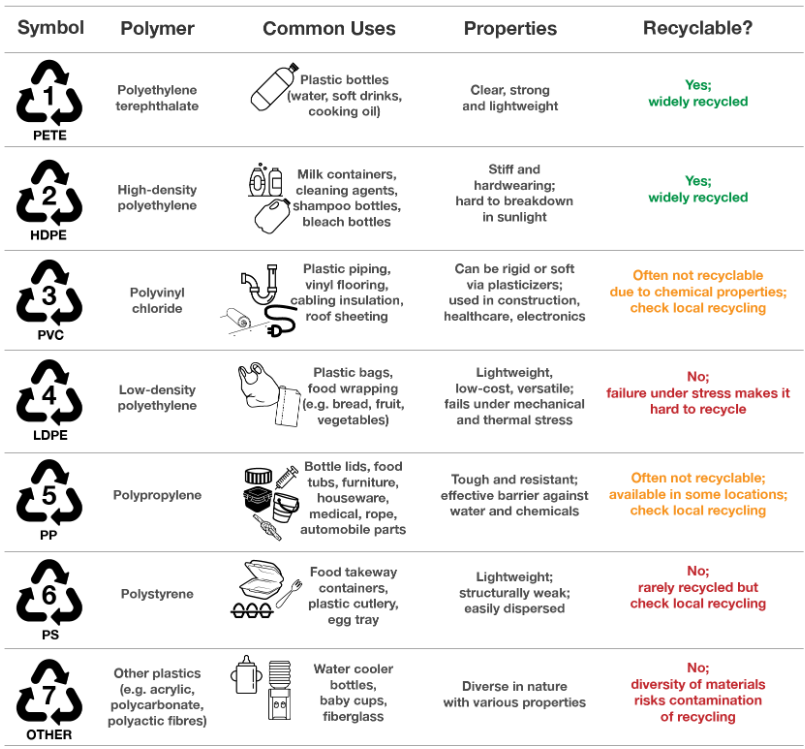 Considering the renewable nature of the hemp plant, it can grow to maturation in as little as 90 days for some varieties, and its incredible versatility, a strong case could be made for manufacturers to switch to hemp-based products. The good news is that many organizations already have research and plans in place to make this happen.
Patagonia, the popular clothing and gear manufacturer, has a full line of clothing made from hemp fiber. Prana and others are all also on that list. Large beverage corporations, like Coca-Cola, are researching alternative bottling processes to incorporate the plant. There's even work being done to convert metallic and ceramic brake pads on vehicles and trains to hemp-based products. And we're not talking about a low-end solution here. Word on the street has it that luxury and performance manufacturers like Porsche and Mercedes-Benz are taking a hard look at the technology. And how about that ban on plastic straws? Yep. Another quick fix thanks to hemp.
Many varieties of hemp contain around 70% cellulose. While cotton contains as much as 90% cellulose, it's worth noting that an acre of hemp can produce as much fiber as 2-3 acres of cotton. According to a report from Ministry of Hemp, it also requires less water, and the clothing made from cotton will wear out significantly faster than that made from hemp. Other sources of common cellulose include wood (roughly half the amount of cellulose as hemp) and flax (which has a similar amount).
All of these facts make a strong case to consider hemp and other plants for new biocomposite plastics. With all the attention hemp is getting around the world, look for new technologies around these renewable solutions to develop at a rapid pace in the near future.
READ THIS NEXT: 7 Little Known Facts About Hemp